Al' America was published by The New Press in hardcover in 2008, and in paperback in 2009
The map at the bottom features select examples that are detailed in the book Al' America. The two-minute animated video below summarizes some of the book's key points. (To watch the video on YouTube, click here.) To buy Al' America: Travels Through America's Arab and Islamic Roots, click here. And to see if your local library has the book, click here.
"Curiel's cultural odyssey moves swiftly and engagingly across time and geography, as he excavates everything from the 'Moorish' architecture of New Orleans and the Alamo to the stories of the Arab and Muslim victims among the 9/11 World Trade Center dead. His research and focused interviews with leading scholars and musicians yield many surprises and leave little doubt about a crucial historical connection too easily forgotten in facile appeals to American identity."
"Esteemed journalist Jonathan Curiel takes the reader on a marvelously constructed sightseeing tour of the US's relationships with Islam and Arab culture. . . . Essential (reading)."
– Choice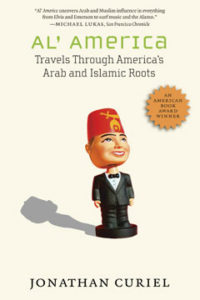 "Al' America offers a quirky tour of sites, sounds and personalities that are quintessentially American and also reveal fascinating vestiges of Islamic and Arab influence. . . . Curiel reports with the light, bemused tone that makes the book a pleasurable read. The author's intent here is pure; his eye for telling detail, sharp."
"In the fine tradition of 'The Irish in America, Jonathan Curiel . . . puts the USA through a sieve and sorts out Muslim influence on American culture."
Americans have lived in fear of Muslims and Arabs for quite a while now and Curiel will force one to reexamine this misunderstanding and for that,Al' America is an important book.
– Illume
"Writing with a scholar's thoroughness, Curiel also shows the reflectiveness of a cultural critic."
– AramcoWorld
CLICK ON THE MAP'S NUMBERS BELOW
TO VIEW AND READ MORE